Delicious Without Gluten 
Products have been Certified Gluten-Free by the Gluten-Free Food Program (GFFP) since 2022
, and the National Celiac Association endorses the GFFP certification program.
About:
Delicious Without Gluten was created to make people with allergies, intolerances and celiac feel safe. All of our ingredients are non-GMO and go through a rigorous allergen evaluation to ensure there is no gluten, nuts, peanuts, dairy, soy or sesame. We are a kosher and dedicated gluten-free facility.  We test our ingredients and final products for gluten as demanded by our gluten-free certification (GFCP) and have very strict measures in place to avoid cross contamination when we use eggs. Only the best quality for DWG!
Why all of this fuss? Here is our story.
Hi, I am Miriam, the mom, recipe developer and entrepreneur behind Delicious Without Gluten Inc. I owned a design studio for 18 years and a peanut free bakery for two years.  With one child who suffers severe food allergies and both children with Celiac Disease I decided to leave the bakery behind to focus full time on the health, care and safety of my children. Understanding the challenges of having children with allergies and gluten intolerance, my compassion for other parents dealing with this runs deep which is why I have made it my business to provide healthy, delicious safe-to-eat foods.
We are best known for our pliable and soft bread which tastes much like what you may remember eating before going gluten-free. We are also known for our cupcakes, cakes and cookies that schools love because they are allergy-free and everyone gets included!
Keep up to date with us by signing up for our newsletter. We offer sales and promotions by email and facebook, so don't hesitate to include yourself on our list!
Product:
Banana chocolate chip cake loaf (Gâteaux aux banane et petites chocolat)
Breakfast muffins (Muffin déjeuner)
Buckwheat chocolate chip muffin (Muffin sarasin et pépites de chocolats)
Challah Oats (Pains Tresses Avoine)
Challah Rolls (Pains Tresses)
Cinnamon Raisin Bread (Miche de pain aux Raisin et Cannelle)
Cranberry Orange Cake (Gâteau Canneberge Orange)
Dinner Rolls (Petits Pain)
Hamburger Buns (Pain de Hamburger)
Mini Vegan cupcakes vanilla (Mini cupcakes végétalien vanille)
Multigrain Loaf (Miche multicéréales)
Panini Bread (Pains Panini)
Vegan Bread loaf (Miche de pain végétalien)
Vegan Chocolate chip cookies (Biscuits aux pépites de chocolat Végétalien)
Vegan chocolate cupcakes (Mini cupcakes végétalien chocolat)
Vegan Hamburger Buns (Pain Hamburger végétaliens)
White Bread Loaf (Miche De Pain Blanc)
DISCLAIMER:
The Gluten-Free Food Program (GFFP) provides a platform for listing certified gluten-free clients and their products.  Information on this page has been taken from the client's website and is not regularly updated. The Gluten-Free Food Program cannot be held liable for claims made. If, for any reason, you are unsure of the content that appears, don't hesitate to get in touch with the supplier directly, as they manage the daily operations and marketing information before purchasing any item. See contact details below.
Mark of Trust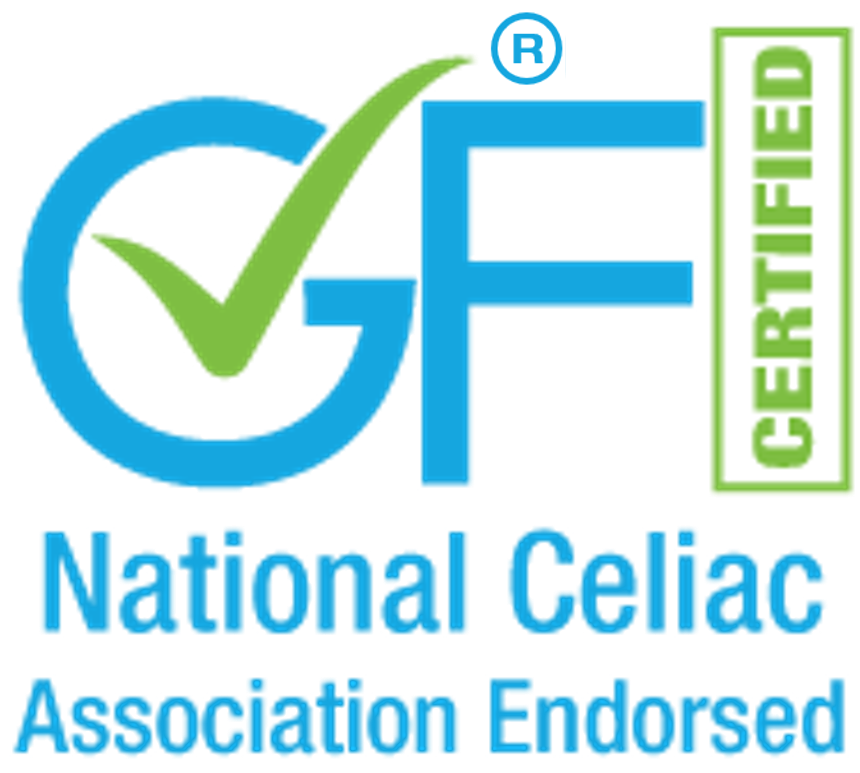 90 E boul. Brunswick, DDO, QC, H9B2C5